Bridge NZ
updated 29 June 2019 --
Back
Match Points Display
Click on the Match Point heading to toggle display from Match points to Match points as a percentage. Your choice will be retained for next time (if you have cookies enabled).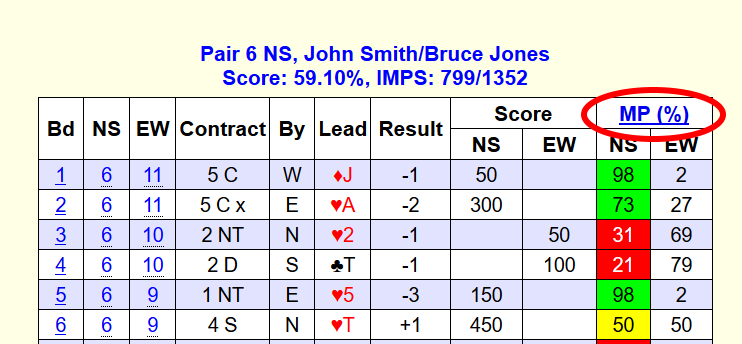 Match points are also colour coded:
≥ 60% of the MPs -

Green

> 40% and < 60% -

Yellow

≤ 40% -

Red
Player Names on Hover
The player names display if you hover your mouse pointer over the NS or EW pair numbers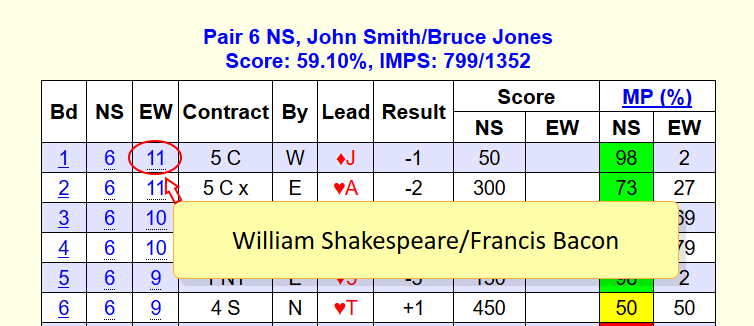 Hand Records
There is now a link on the Scores page, Personal Scores page and the Hand Record page to see only the hand record.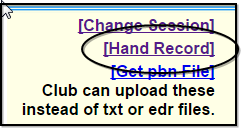 PBN Files
It is now possible for clubs to upload pbn files and these will be availbale for the players to download and re-play on their bridge software. If the club uploads EDR files, these will now be automatically converted to pbn files at 1am the following morning.
From 15/6/2016 txt files from DealMaster Pro will be converted to pbn files at 1am.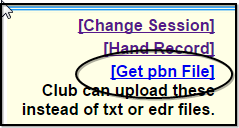 Replay Deals with BridgeSolver
Bridge Solver is now available to allow you to replay the deals.
From the Personal Scores menu there is a button at the right to replay the deals, starting from board 1 but you can scroll or select any board you wish from the deals.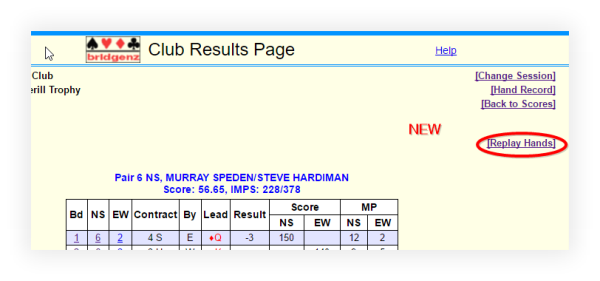 From the display of each board, there is a 'Replay Deal' button next to the board number which allows you to replay the deals, starting at that board but you can scroll or select any other board in the set once you get there.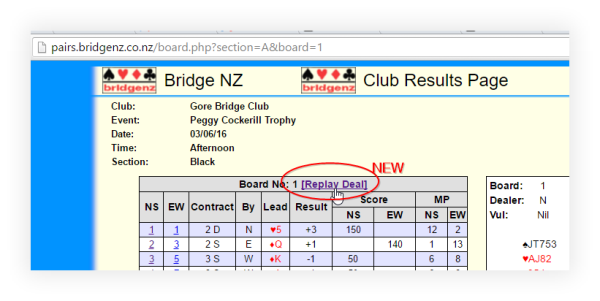 NOTE: The replay screen opens in a new tab, so you still have your other tab open to go back to.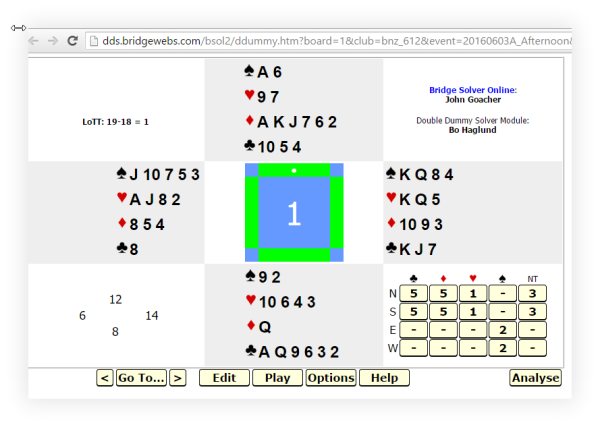 'C' Points
NZB have now changed the C-point allocation - meaning the values published here may be inconsistent with those allocated by NZB
'C' Points
Master points awarded for each session are now displayed.
NOTE: Version 16 now has the C-points corrected and should be consistent with those allocated by NZ Bridge, including factoring of points for tournaments. Casual events will not allocate C-points and clubs not affiliated to NZ Bridge will no longer show C-points.
Handicapped Events
The reuslts for handicapped events now show the raw score as well as the handicapped score.
By default the scores are sorted by handicap but placings are shown on Raw Score.
If your club would like this displayed differently it can be customised - please contact BridgeNZ.
Field Scoring
Field Scoring is now displayed (where boards from more than one section are scored across the sections).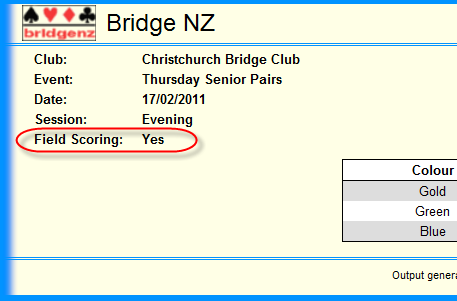 Lead Card
The lead card has been converted to standard format of Suit then Rank. Suit symbols are used rather than letters.